What is Osteopathy?

Osteopathy is a manual therapy which aims to view the body as a whole by looking at the causes of musculoskeletal pain, and then treat using soft tissue manipulation (massage & stretching), joint articulation and mobilisation. Osteopathy may be able to help with: Neck, back and spinal pain, trapped nerves, sciatica, slipped discs, muscular limb pain, joint pain such as ankle, knee, hip, wrist, elbow and shoulder, arthritis, sports injuries, tendon & Ligament injuries, bursitis, tennis & golfers elbow, frozen shoulder, rotator cuff/impingement syndrome, foot pain, plantar fasciitis, headaches & migraines, postural problems, muscular imbalances, & pregnancy pain.
Regulation of Osteopathy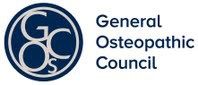 All osteopaths in the UK are regulated by the General Osteopathic Council (GOsC). Osteopaths are required to renew their registration each year and we provide registrants with an annual licence to practise. As part of this process, the GOsC checks that osteopaths have current professional indemnity insurance, remain in good health and of good character, and have met mandatory continuing professional development requirements.
Osteopaths use touch, physical manipulation, stretching and massage to increase the mobility of joints, to relieve muscle tension, to enhance the blood and nerve supply to tissues, and to help your body's own healing mechanisms."